Murder Inc. Exclusive: Was Claribel Quinones murdered by the Long Island Serial Killer?

On July 3, 2007 workers found the dismembered remains of a woman wrapped in a plastic garbage bag, newspaper and duct tape in the basement of an abandoned house at 546 Lexington Avenue in Brooklyn, NY. The identity of the victim was never released to the public by the New York Police Department but was obtained by Murder Inc. The woman was Claribel Quinones, of 1065 Bedford Avenue, Brooklyn.
Tanya Rush was last seen leaving her apartment at 345 Livonia Avenue in Brooklyn on June 23, 2008. According to her sister-in-law, Tanya said she was going to meet a friend. Her dismembered remains were found in a suitcase along the Newbridge Road ramp off the Southern State Parkway in Bellmore not far from the Wantagh State Parkway that leads to Jones Beach. Her murder is known to have been investigated by law enforcement in connection with the Long Island Serial Killer case.
On March 23, 2013 the skeletal remains of a female in a suitcase were discovered by construction workers inside an abandoned house at 174 Hull Street in Brooklyn. The suitcase was burned, likely during a fire that occurred at the house in May 2012, placing the murder sometime before then. The woman was identified as Erica McDaniel, a 30 year old Kansas native with ties to Long Island. Erica McDaniel lived at 1084 Bedford Avenue, directly across the street from Claribel Quinones! Both Erica McDaniel and Claribel Quinones were found murdered and hidden inside abandoned houses in the Bedford-Stuyvesant section of Brooklyn


July 3 2007 Claribel Quinones Murder Brooklyn, NY


Claribel Quinones was found dismembered in an abandoned house at 546 Lexington Ave in Brooklyn


Claribel Quinones and Erica McDaniel lived across the street from each other

June 27 2008 Tanya Rush Murder Bellmore, NY


Tanya Rush lived at 345 Livonia Ave in Brooklyn, NY. She vanished after walking out of her apartment building and told her sister-in-law she was going to meet a friend. Tanya Rush lived less than a mile from where Erica McDaniel's body was found. Both were found in suitcases and police noted the similarities between their murders to the press


Tanya Rush was found dismembered in a suitcase on Long Island

March 23 2013 Erica McDaniel Murder Brooklyn, NY


174 Hull Street in Brooklyn where Erica McDaniel was discovered


174 Hull Street is less than two miles from the abandoned house where Claribel Quinones was found dismembered


Erica McDaniel was found murdered under 1000 feet from the address shown for Andre Isaac on De Sales Place


Erica McDaniel's relatives lived in Amityville and West Babylon on Long Island


Erica McDaniel's relatives lived 1 mile from LISK victim Amber Costello in West Babylon


Erica McDaniel lived across the street from Claribel Quinones in Brooklyn

The Brooklyn Butcher
On July 9 1997 a male and female were found dismembered in garbage bags in the parking lot of the Borinquen Plaza apartments by a cleanup crew. The NYPD claims neither victim was ever identified but they are still not in NamUS. The next day, July 10, the skull, arms and legs of a female inside of a suitcase were fished out of the water in Brooklyn. The victim also remains unidentified.
In August 1999, 16 year old Jackie Smith disappeared from Avenue N & Utica Avenue in Brooklyn. Her torso was found wrapped in plastic in Rockaway Beach, Queens on June 20, 2000.
On February 20 2002 the skull and hands of a female were found inside the refrigerator of abandoned house at 2743 Fulton Street by workers hired to clear the property. More body parts were also found in the basement. She remains unidentified. The circumstances of her murder and Claribel Quinones are eerily similar.
In November 2002, Andre Jamal Isaac, known as "Sugar Bear" disappeared from Brooklyn after getting into a red BMW-type sports car with his "secret friend". His torso was found dismembered and wrapped in plastic bags in Rockaway Beach in December 2002 approximately one mile from where Jackie Smith's torso had been found. His skull was found in a frozen pond in Moriches in Suffolk County on Long Island and his extremities were discovered in a wooded area near a recently constructed house in East Patchogue. In 2020, the Suffolk County Police Department "accidentally" posted Andre Isaac's case on their Gilgo News website.
In July 2003, the dismembered torso of Jessica Taylor was found in Manorville, NY. Her skull was later recovered along Ocean Parkway in 2011 among 10+ other victims of the Long Island Serial Killer. Like Jackie Smith, Andre Isaac, Claribel Quinones, Tanya Rush and Erica McDaniel, Jessica Taylor lived in Brooklyn, NY…


July 9 1997 Jane Doe & John Doe Dismembered Brooklyn, NY


July 10 1997 Dismembered Female NamUS #UP6816 Brooklyn, NY


August 12 1999 Jacqueline Smith Missing Brooklyn, NY


In 2008, posters on the Porchlight USA missing persons forum were informed that Jacqueline Smith was "restricted" and ordered to remove any posters of her from public view. Why, if Jacqueline wasn't identified until 2018?


Jackie Smith was last seen at Avenue N & Utica Avenue in Brooklyn


June 20 2000 Jacqueline Smith Murder Torso Discovered Rockaway Beach, Queens, NY


The NYPD sent out a tweet in 2019 with limited information about Jacqueline Smith's murder. This appears to be the only public acknowledgement that the torso found in Rockaway Beach on June 20, 2000 was identified as Jacqueline Smith


Jacqueline Smith's torso was found approximately 1 mile away from where Sugar Bear's was found two years later


December 5 2001 Dismembered Male Brooklyn, NY


The dismembered remains of this John Doe were found in garbage bags at a Brooklyn housing project, echoing the murder of the male and female found dismembered in the parking lot of the Borinquen housing projects in 1997


February 20 2002 Unidentified Dismembered Female & Davon Barrell Brooklyn, NY


Jane Doe (2002) and Claribel Quinones (2007) were found approximately 2.5 miles apart and both discovered dismembered in the basement of an abandoned house


2743 Fulton where Jane Doe 2002 and 647 Belmont where Davon Barrell were found are about half a mile apart


647 Belmont Ave Brooklyn, NY where Davon Barrell was discovered


The male victim found at 647 Belmont was identified as Davon Barrell (per a Freedom of Information Law request). LISK victim Jessica Taylor lived under 1,000 feet from where Davon Barrell was found murdered


November 2002 Andre Jamal Isaac "Sugar Bear" Missing Brooklyn, NY


Andre Isaac disappeared from East New York after being seen getting into a red BMW with his "secret friend"


Andre Isaac lived on De Sales Place in Brooklyn. Long Island Serial Killer victim Jessica Taylor's pimp Khalil White shows a previous address on De Sales Place two blocks from where Andre lived. It also appears that Khalil White's and Andre Isaac's relatives know each other


Khalil White's mom knew Andre Isaac's father


December 17 2002 Andre Jamal Isaac "Sugar Bear" Torso Rockaway Beach, NY


Andre Isaac's murder appeared on the official Suffolk County Police Department's Long Island Serial Killer "Gilgo News" website in 2020


Andre Isaac's torso was discovered at Rockaway Beach 1 mile from where Jackie Smith's torso was found in 2000


January 26 2003 Andre Jamal Isaac's Head Recovered Moriches, NY

April 10 2004 Andre Isaac's Arms & Legs Recovered Moriches, NY


PIX11's Mary Murphy covered the murder of Andre Isaac and the connection to the Long Island Serial Killer case in a July 2020 investigative report


July 26 2003 Jessica Taylor Murder Manorville, NY *LISK*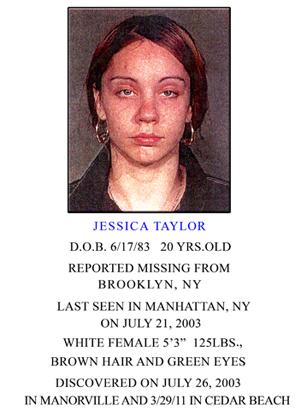 Jessica Taylor was murdered by the Long Island Serial Killer in July 2003. Jessica Taylor and her pimp Khalil White lived in Brooklyn


Jessica Taylor's Remy's Angel tattoo was similar to Claribel Quinones' angel tattoo

Jessica Taylor's torso was found in Manorville, NY

March 3 2004 Lethovan Beaubrun Murder Brooklyn, NY


Lethovan Beaubrun's identity was obtained from the NYPD by Murder Inc. through the Freedom of Information Law


Lethovan Beaubrun appears to have resided on Long Island in Jericho, NY at some point prior to his murder

Today marks 25 years since the first official Long Island Serial Killer victim's dismembered legs were found on Fire Island. The Suffolk County Police Department continues to refuse to release the identity of LISK victim Manorville John Doe 2003…